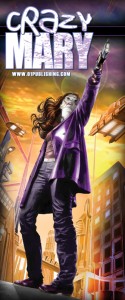 So awhile back I got involved with CRAZY MARY, Mike Colbert's vision of a hallucinogenic mercenary working the grimy underworld of a futuristic New York. For my part, I acted as a story consultant and editor for the CRAZY MARY graphic novel. I also co- wrote one of the stories.
CRAZY MARY is the creation of writer Michael Colbert and artist J.K. Woodward and is currently available from 01Publishing. Last week the first installment of CRAZY MARY was shipped to Amazon.com.
Read CRAZY MARY chapter one FREE online here: http://01publishing.com/titles/crazy-mary/trail-of-tears-preview/
The cool part? The book has already sold out and is awaiting a second shipment. According to 01Publishing, "We'll be sending another shipment of books to them this week, but if you are wanting to get a copy this month we recommend ORDERING NOW. Chances are Amazon isn't going to order enough to meet demand, so it'll be a first come first serve basis."
So yeah. Order this book. Seriously. It's all kinds of good.